Get Airtable Records
Introduction
Byteline provides an easy-to-use Get Airtable Records task to fetch Airtable data. A simple and user-friendly interface allows you to retrieve Airtable records and will return all the data from your Airtable table in seconds. Airtable requires pagination to fetch more than 100 records, so Byteline internally performs pagination so that our users don't have to. For example, if your Airtable table has 300 records, we will fetch all 300 just with a minimal task configuration.
Configure Airtable API Key
Before you start using the Get Airtable node, you need to configure the API key to access your Airtable account from Byteline.
Click on the Connection from the navigation bar on the top of the Byteline design flow console, and then select Airtable from the left panel. You will see the below screen.

How to Get Airtable API Key
You will get the API key from Airtable and then save it on the above Byteline screen using the following steps.
Steps:
Login to Airtable.
Navigate to your account page by clicking on the user icon at the top-right, and then select Account.
Click the "Generate API Key" button as shown below. Now copy the API key and paste it on the Byteline console.
Get Airtable Records - task node
Step -1: To create a flow, please check the How to create your first flow design.
To add the Airtable Get Records node, click on the Airtable - Get Records node to add it to the existing flow.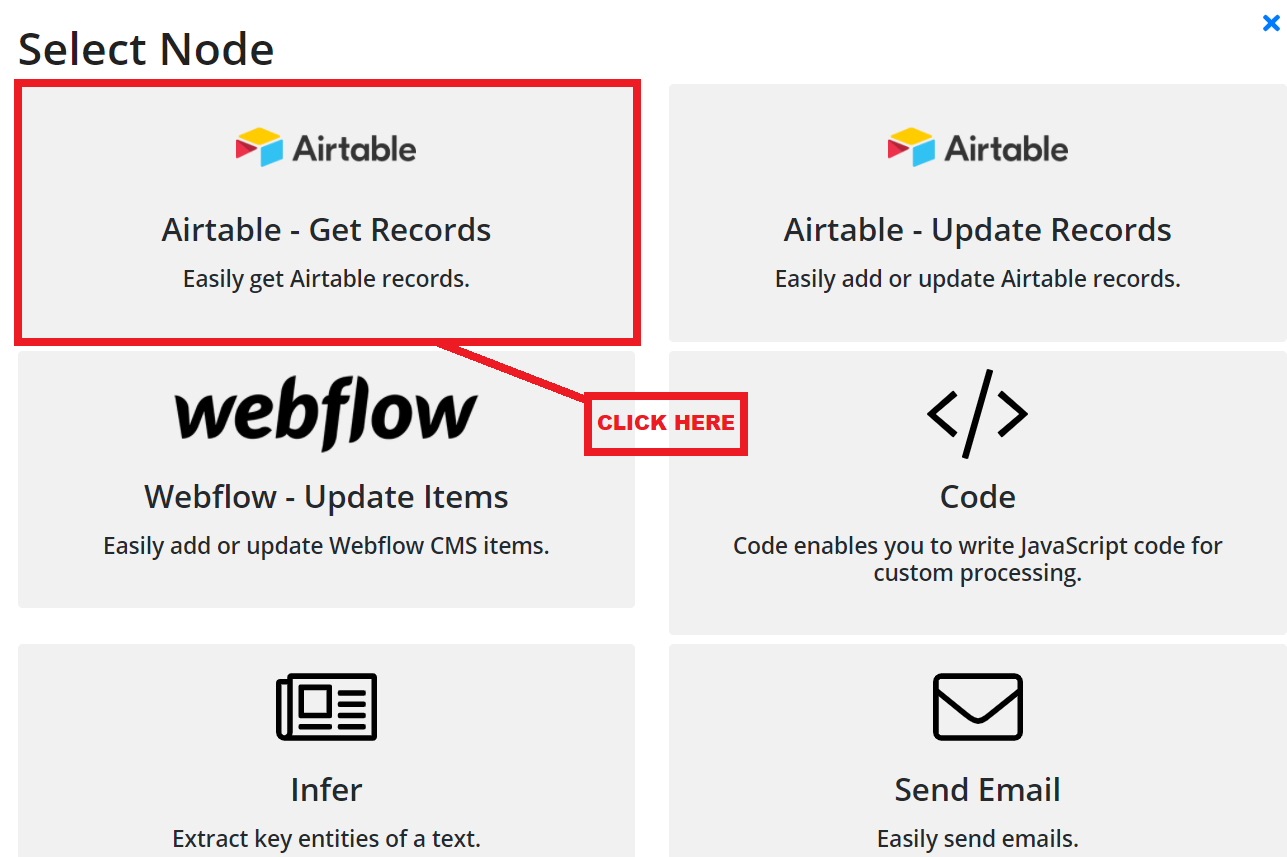 Step -2: Click on the edit button for the Get Airtable Records node configuration.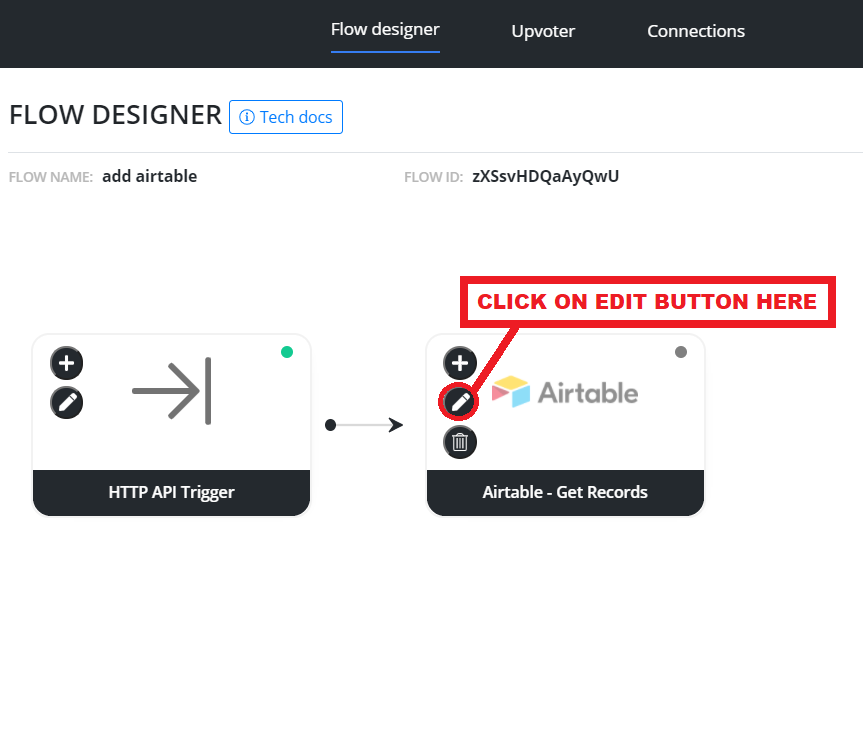 Airtable Base Id
Step -1: For base Id, login to your Airtable account using your email and password.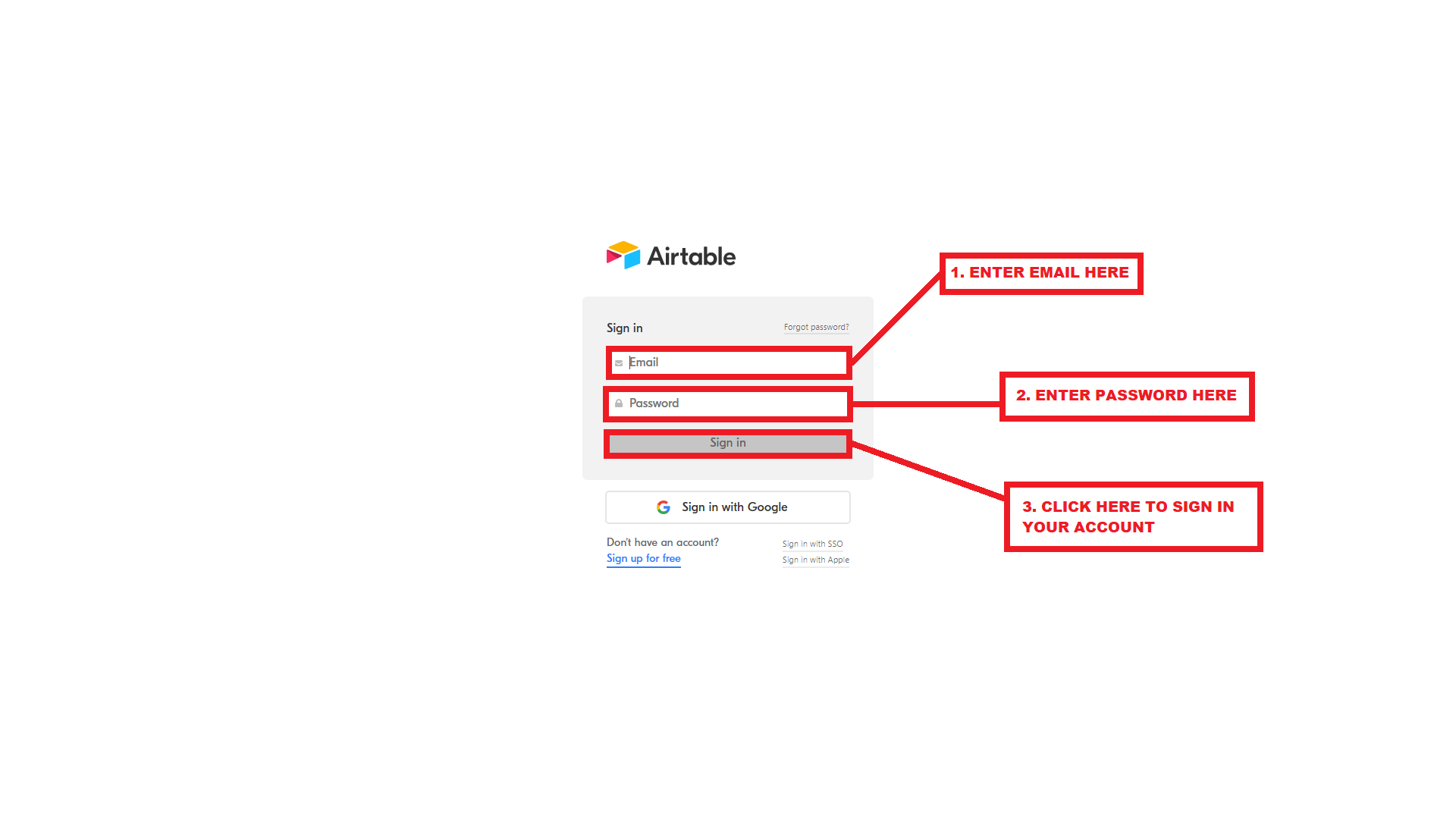 Step -2: Open your Airtable API and select your base.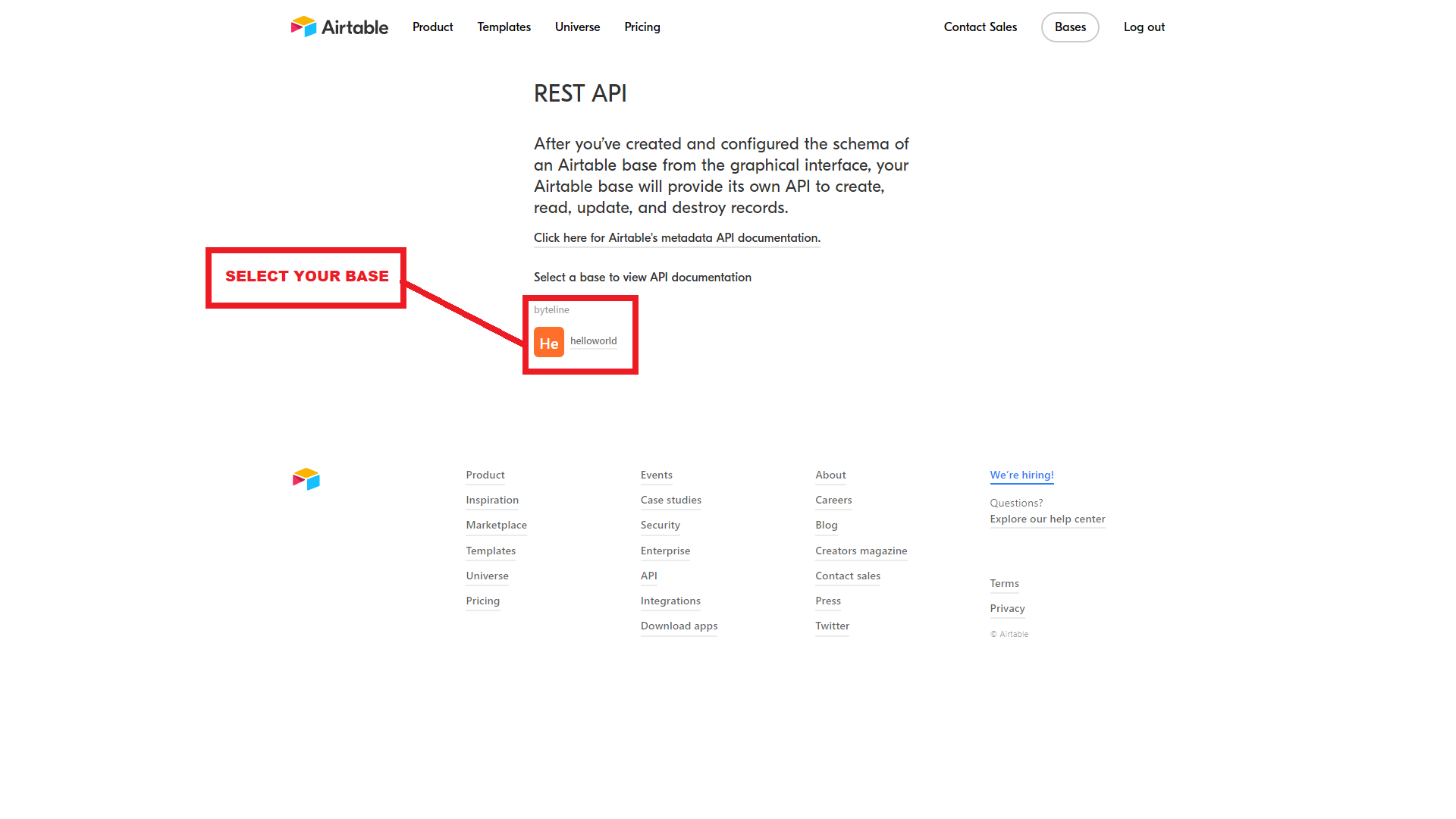 Step -3: Copy the base Id string such asappfHBMTMuJi4HDQ3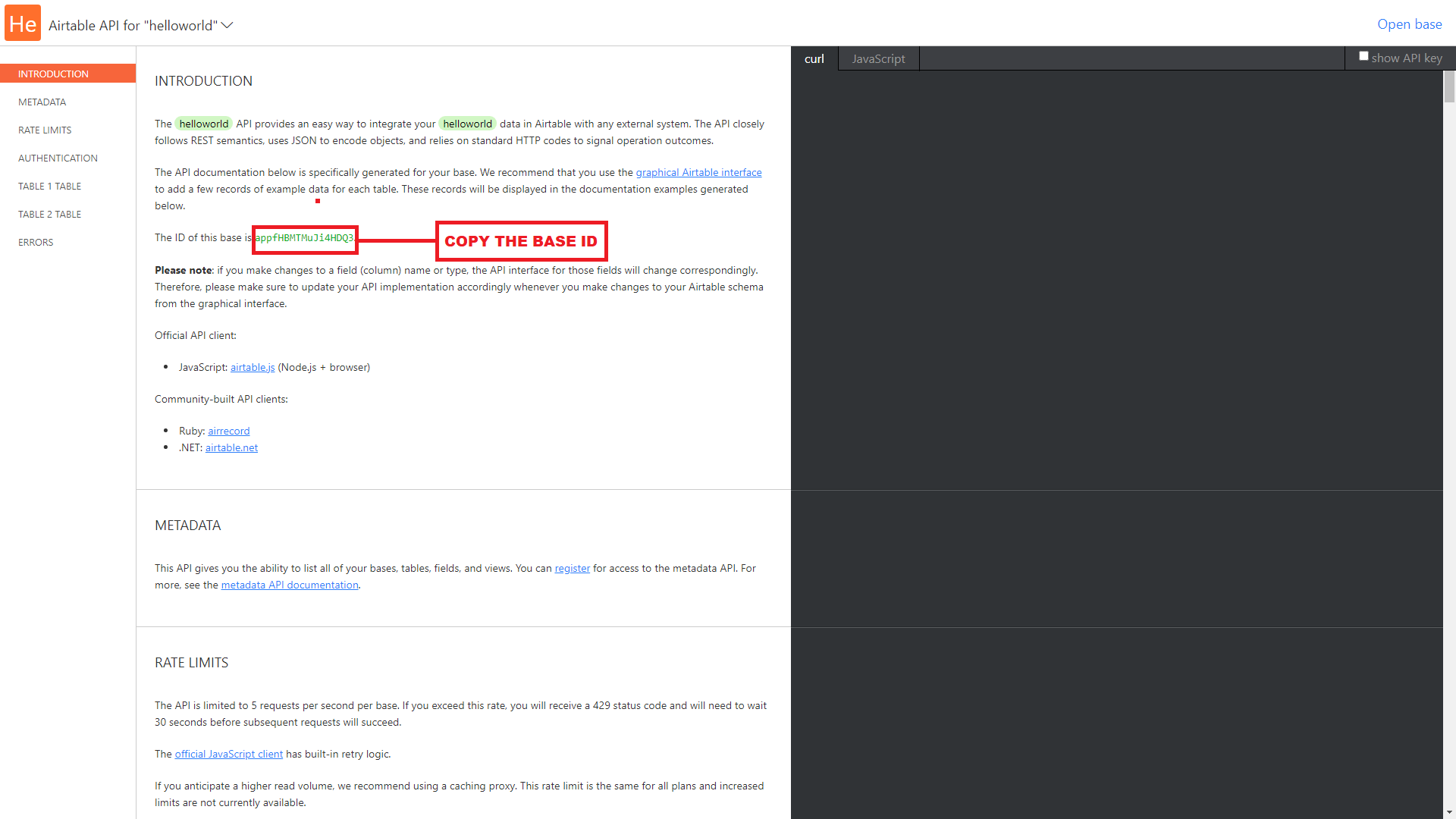 Step -4: Paste the copied string in the base Id text field of the configuration window.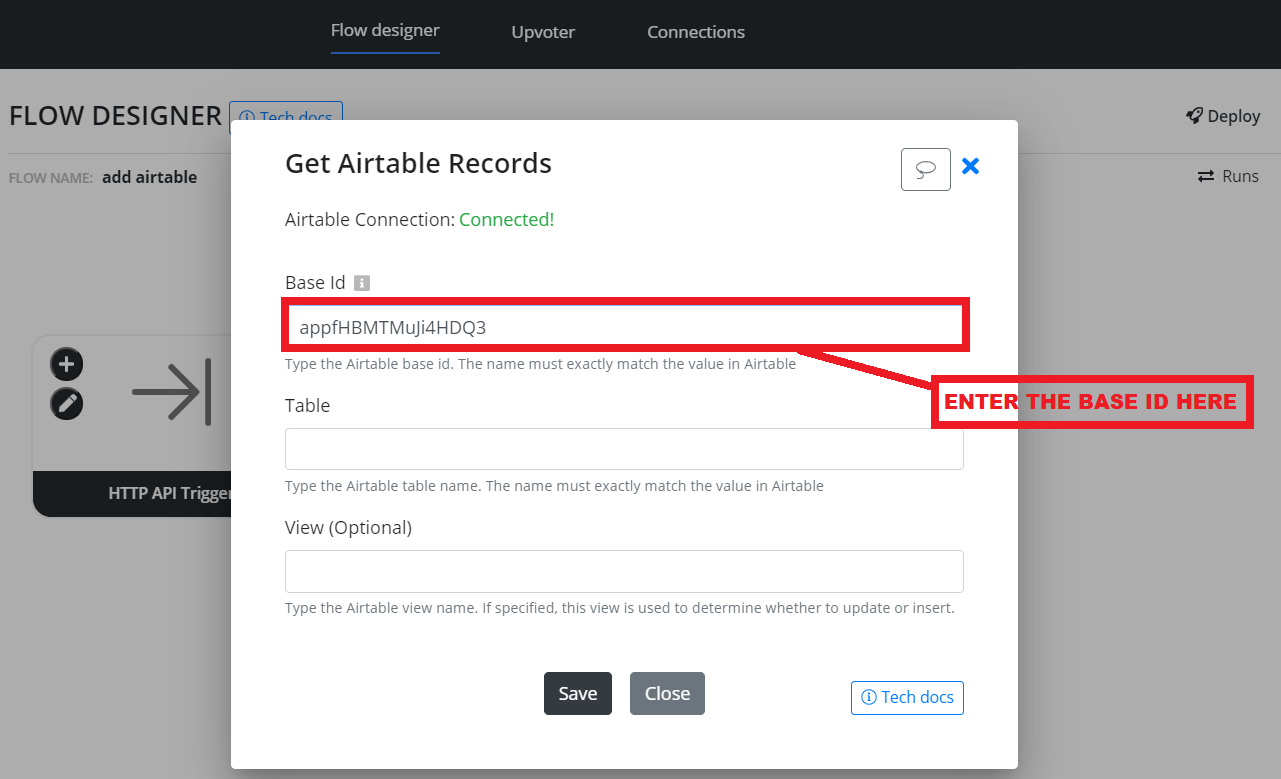 Airtable Table Name
Step -1: Go to the base in your Airtable and check the required table name mentioned there.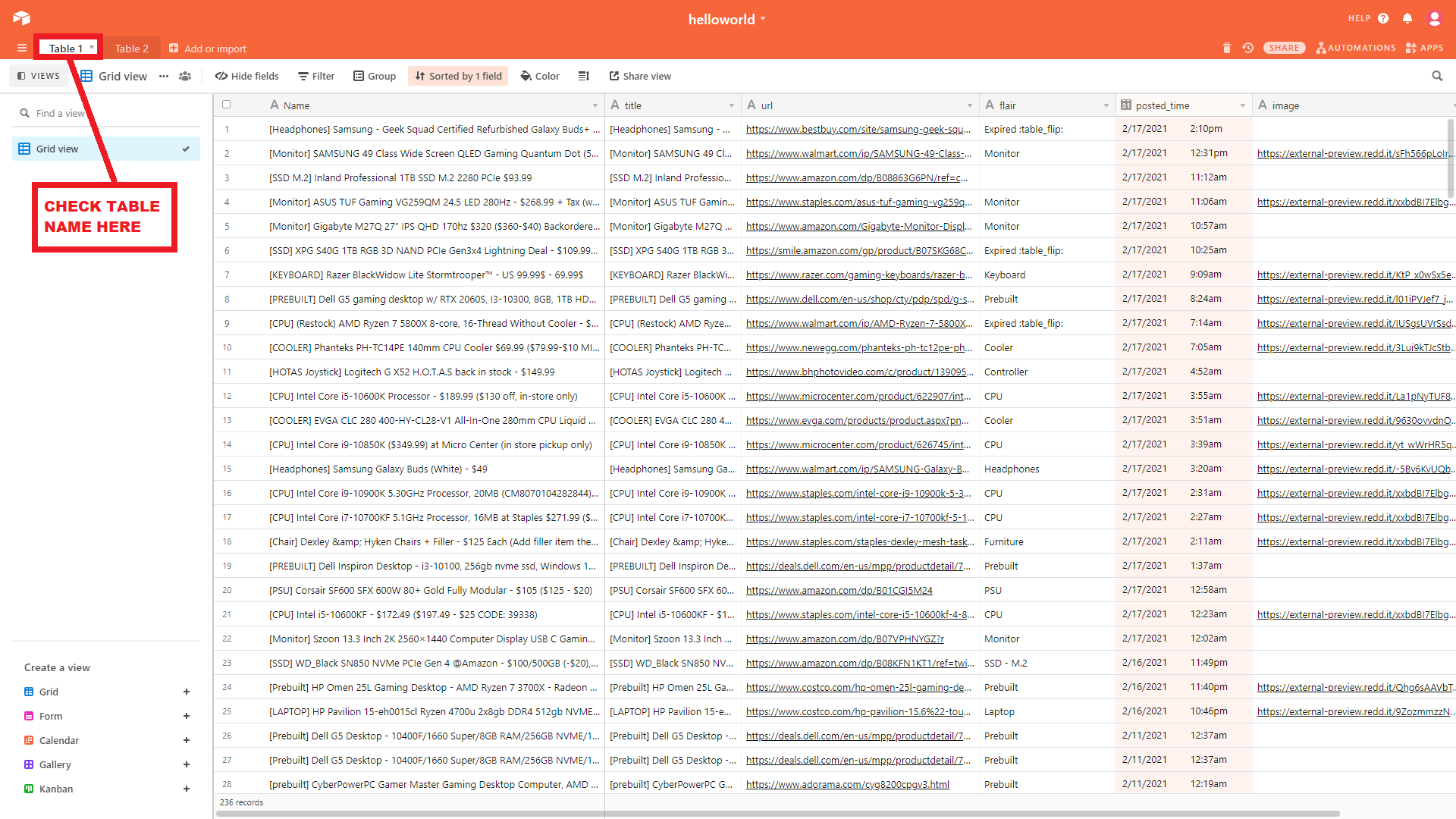 Step -2: Enter table name in the table name text field of the configuration window.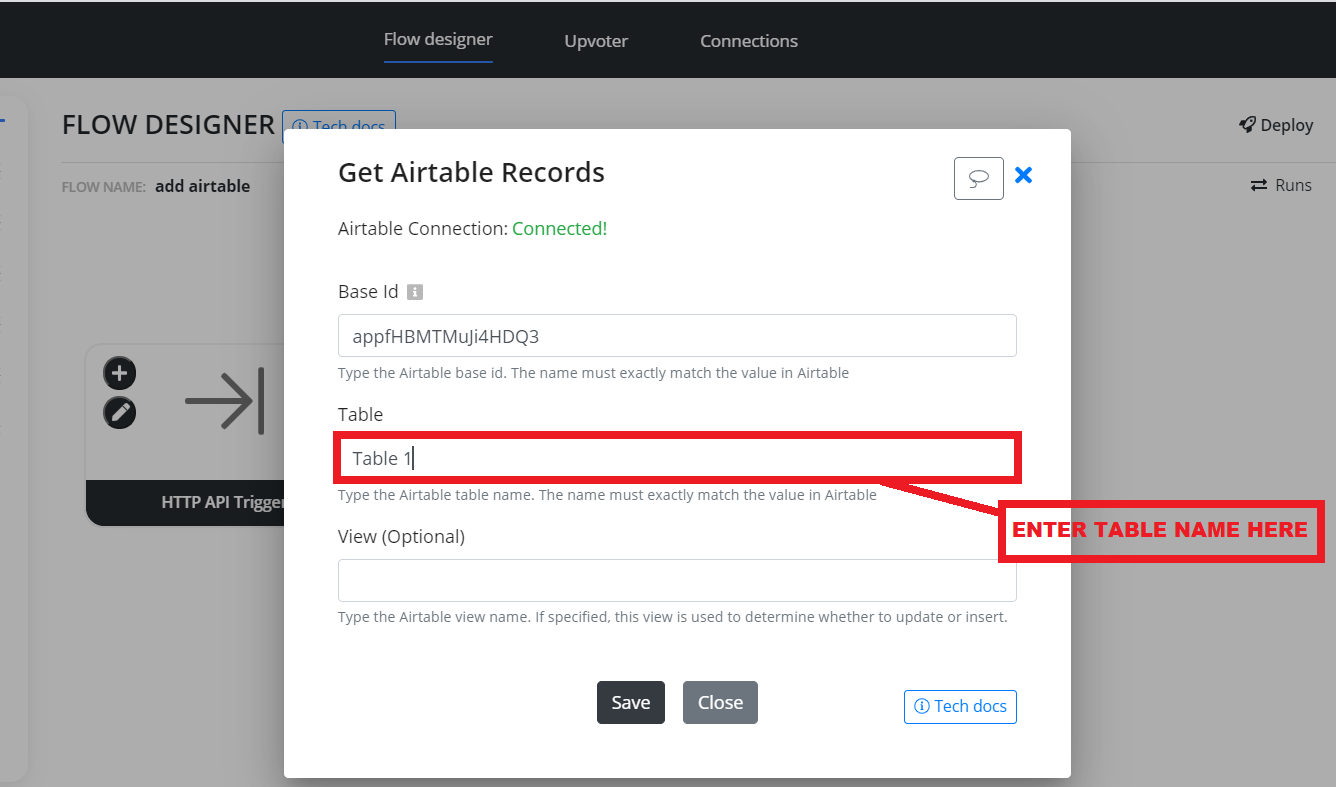 Airtable View (Optional)
Only the data matching the view shall be returned if the Airtable view is specified. If it's not specified, then all the data from the table is returned.
Step -1: In the Airtable base, you can find the view type in the top-left corner of the console.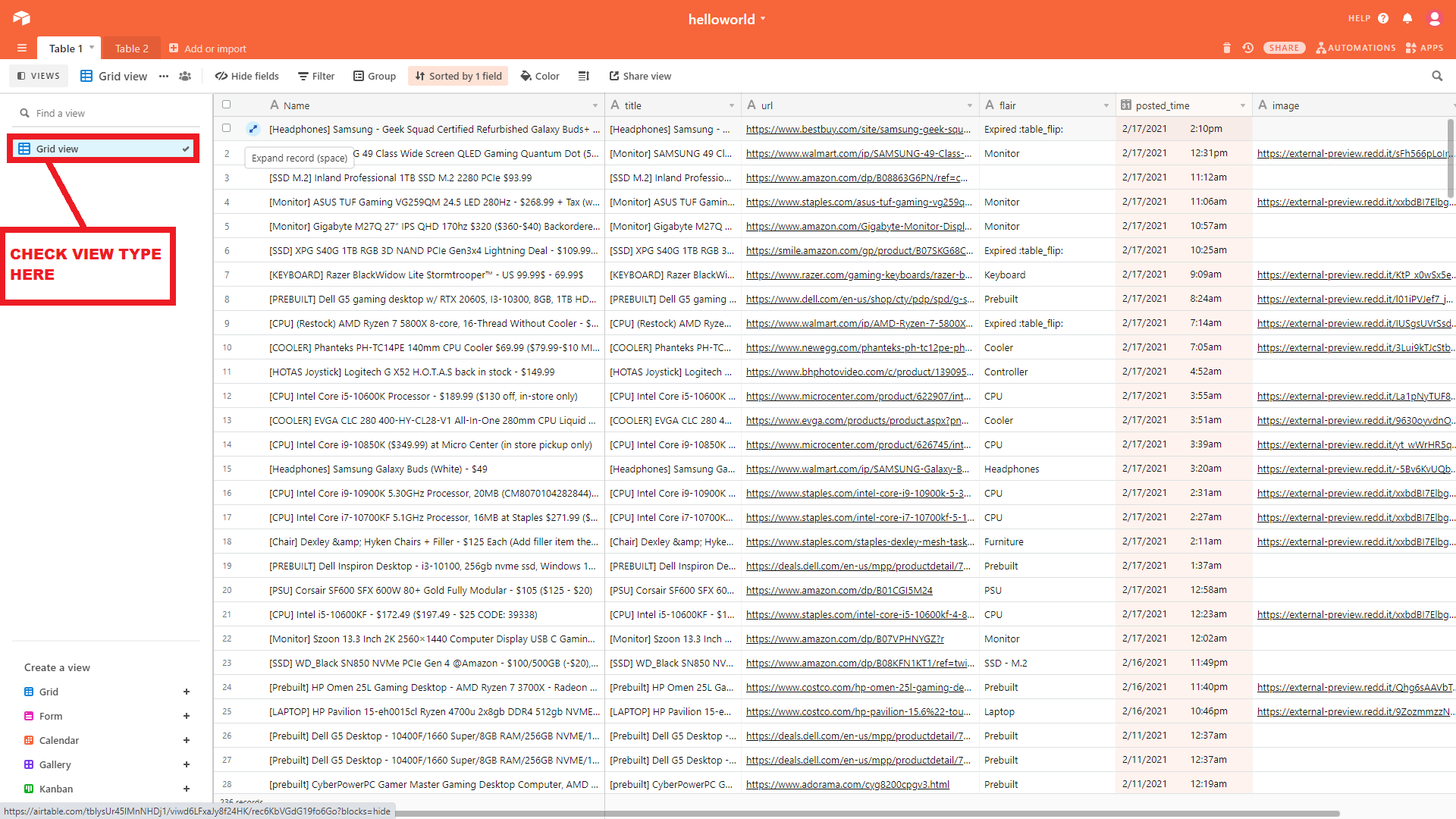 Step -2: Enter view type in the view type text field of the configuration window.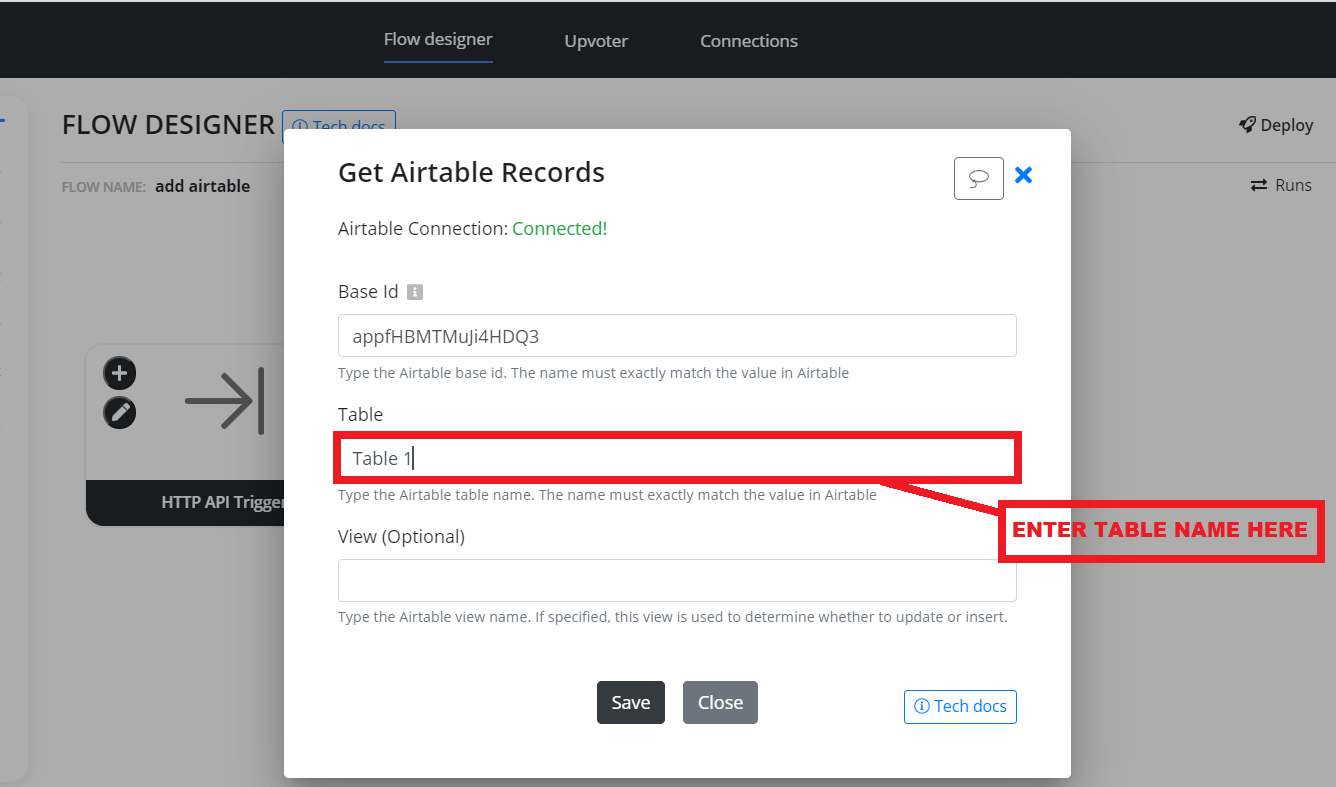 Step -3: Click on the save button to save the node configuration.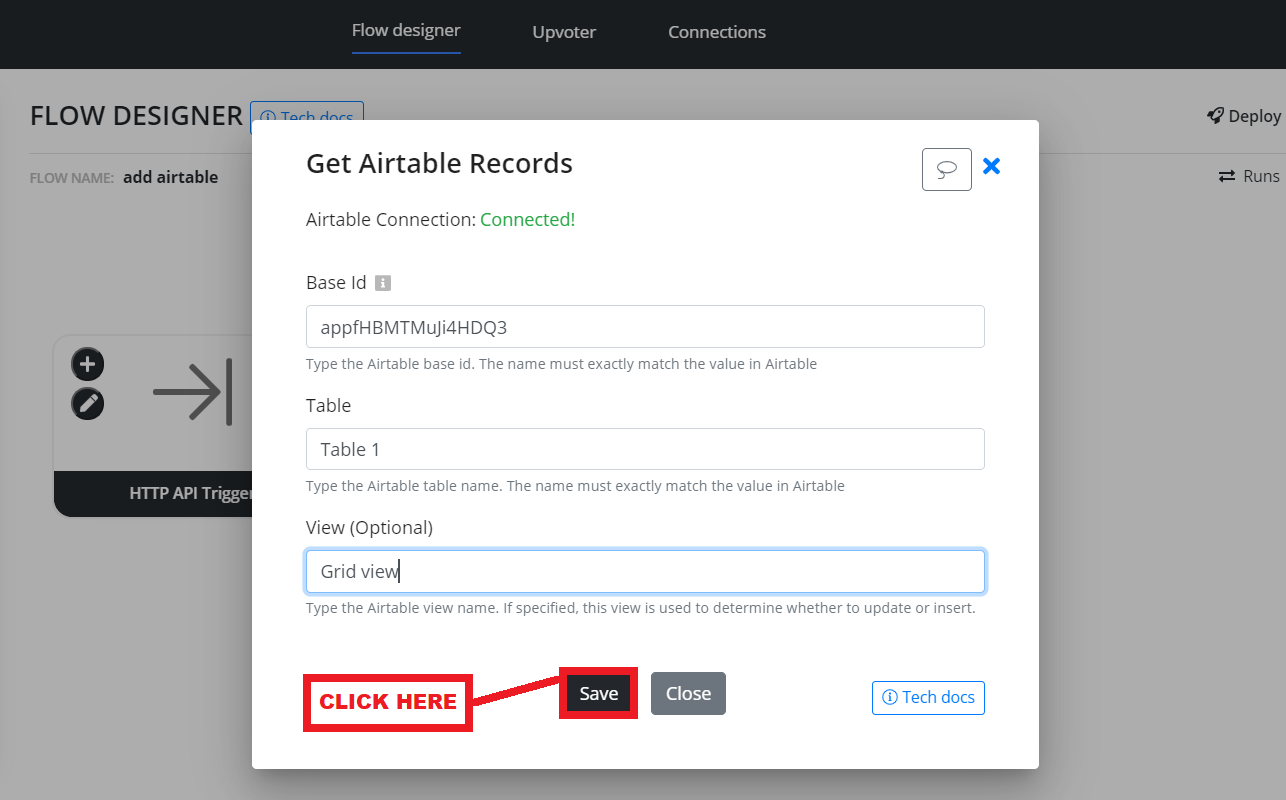 The green indicator shows that the Get Airtable Records node is successfully configured to your flow.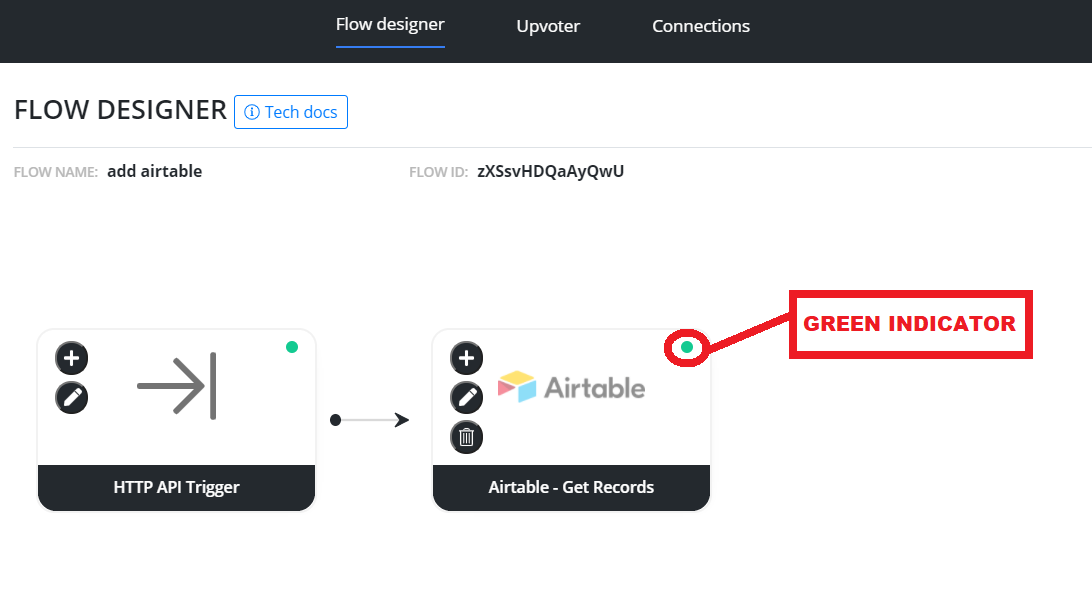 Your Get Airtable Records node has been configured successfully. Feel free to connect us for any doubt. Develop fast!
---
---